Every girls childhood dream is to have a fairytale wedding
You have now met your Prince Charming and are about to embark on the emotional rollercoaster of organising your perfect wedding day.
How Lend-a-Hand can help you accomplish your dream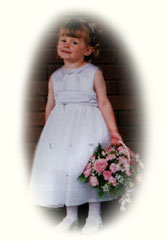 We believe every bride has individual tastes and every wedding is unique to reflect your own personality. So we do not offer a standard wedding services package, we are quite prepared to do as little or as much as you require to ensure everything runs smoothly on your special day.
Whether you simply need an extra pair of hands on the day or a fully co-ordinated wedding package we are happy to be of service. Perhaps you just need help in locating a suitable venue, sourcing a certain supplier, having a second opinion when choosing your wedding and bridesmaids dresses, or consultancy advice, after all we have plenty of experience. No job is too big or too small we are always happy to be of assistance in creating your perfect day.
We now operate a wedding wishing well hire service
Hire a fabulous wishing well to keep all your wedding cards, vouchers and cash safe and in one place during your reception. Please contact us for further details.
Whatever your requirements, working with an experienced professional will ensure a well organised and stress free wedding.
Due to popular demand Susan now holds Wedding Workshops for prospective brides. Further details available on request.
Special Offer Full Wedding Co-ordinations £99
Contact us by email or telephone for your free initial no obligation consultation so we can discuss (preferably over a cup of coffee) your requirements and you can view our portfolio. Leave it in our capable hands and you will be surprised how much time and money we can save you by guiding you through the pitfalls of organising your wedding.
Our Next Bridal Fayres:
4th September 2022 ~ Worsley Court House Barton Road Worsley M28 2PB
11.00 - 3.00pm Admission Free
16th October 2022 ~ The Wellbeing Farm Plantation Road Edgworth Bolton
11.00 - 3.00pm Admission Free